Leader's Mental Health Program
As soon as they return to work
M-J supports your Leaders
To optimize their chance of a successful return and avoid a relapse following a diagnosis of depression or burn-out.
Many surveys indicate that leaders are afraid to ask for help; they do not want to be perceived as weak or incompetent. After an absence from work for psychological health reasons, this feeling can become an anxiety factor. As soon as they return, offer them the support of an expert who has been through similar ordeals and who understands their reality at work. In complete confidentiality, perceptions will be normalized and paralyzing issues reframed towards a successful return to work.
How to preserve your mental health
Program for Leaders and Identified Talent Returning to Work
Psychological health statistics indicate that there is a 50% chance that an individual diagnosed with depression will relapse during his or her first return to work. Of course, many external factors can influence this relapse, but it is possible to optimize the chances of a successful return by ensuring that self-stigmatization and self-sabotage at work are not contributing factors. Here is a program that integrates three important concepts related to psychological health in the workplace and helps your leader return to full potential: peer support, mentoring and EI training. 
TYPES OF BUSINESSES: All Types
*TYPE OF DIAGNOSIS: Depression and/or Burn-out
FOR: CEO, Vice President or Director
*Please note that the offer cannot cover any other type of diagnosis since, according to the principles of peer support, M-J only has experience with major depression and burn-out.
A total of approximately 25 hours spread over a period of 3 to 12 months (depending on operational agendas).
The goal is to give a leader every opportunity to experience a successful return to work, while strengthening his or her path to a lasting recovery. This program does not replace therapy or medical follow-up. It does, however, provide guidance, share hope through a similar experience and equip the leader to regain control of his or her professional life.
Why EI: Research has found a strong association between higher measures of EI and mental health. In addition, higher levels of EI have been shown to provide increased resilience to negative life events.
Please note that this program will not be used to determine the leader's competence. It will be used to improve the leader's chances of success and to maintain a sustainable recovery. All information will remain confidential.
AFTER A DEPRESSION
CAN ONE HAVE A CAREER?
ESPECIALLY WHEN YOU ARE A LEADER...
KEEPING IN MIND THAT EACH DEPRESSION IS UNIQUE, M-J IS LIVING PROOF THAT IT IS POSSIBLE TO HAVE A SUCCESSFUL CAREER FOLLOWING THIS TYPE OF DIAGNOSIS.
Stigma towards psychological challenges is still very present in the workplace, especially towards those in leadership positions. But what M-J realized is that the first stigma we have to fight is the one we have against ourselves.
WHY INVEST IN A LEADER DIAGNOSED WITH BURN-OUT OR DEPRESSION?
Here is what M-J says to decision-makers who ask this question: "This leader will probably be better equipped than his colleagues to face adversity because life is currently forcing him to discover his own limits, to know how to recognize them and to face them. This also teaches him, in parallel, to be a better leader. Yes, it is worth investing and helping an individual who wishes to pursue his career! This is what I was offered and what has allowed me to continue to contribute positively. "
Following her depression, M-J's career as a production leader continued successfully until she turned down an offer to become Vice President of Operations. She chose to pursue another dream: help her colleagues not make the same mistakes she did, those that lead insidiously to a psychological health diagnosis.
After several years of studying in order to understand what triggered her depression, M-J agreed to work for a firm specializing in peer support.
After adding to their peer support training some of her knowledge about emotions, she rolled out their program while innovating on several fronts:
Creation of a survey and four-step process to implement in organisations the National Standard of Canada on Psychological Health and Safety in the Workplace,
Creation of workshops for national union entities so that union representatives know how to preserve their own mental health,
Creation and implementation of a program for the Canadian federal government to help managers better support their employees dealing with mental health challenges,
Speaker and published author of a book about depression and hyper performance.
She then created and deployed her programs and services to counter a toxic work climate and increase the emotional intelligence of employees, leaders and entrepreneurs while strengthening her expertise with two certifications in applied neuroscience. For more details, simply click on the topics below.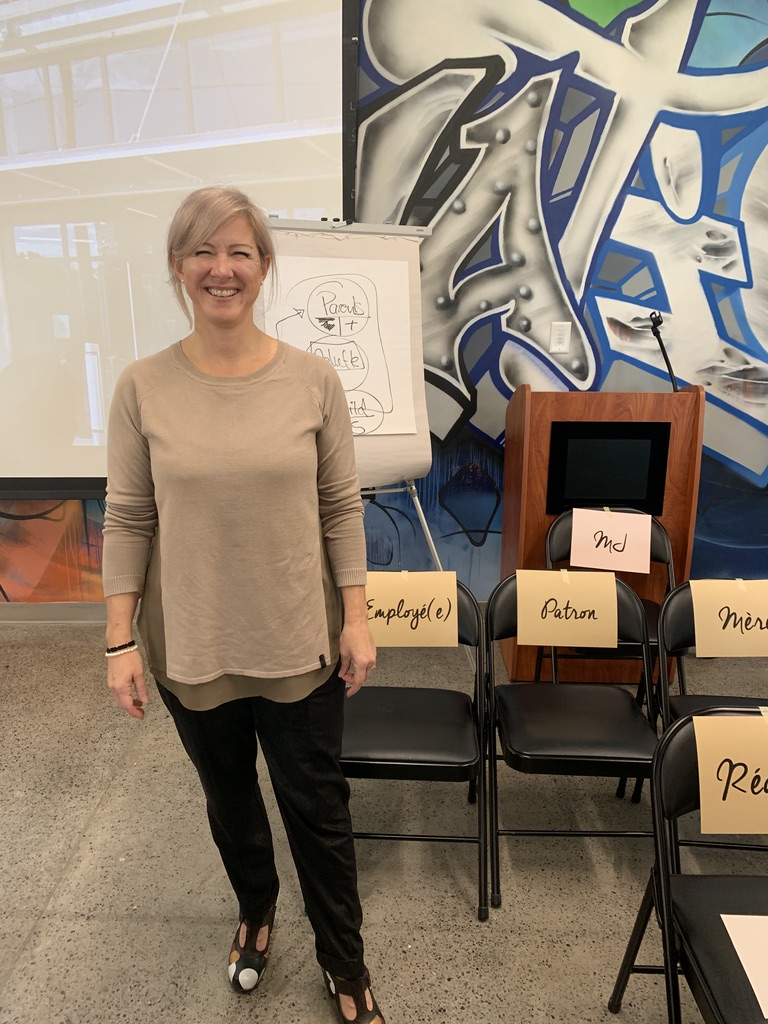 Since 2009, M-J has been designing conferences and workshops that target leadership, burnout, stress and anxiety at work.
MJ offers a highly interactive session that allows your leaders to identify the source of their own psychological stressors and the methods and awareness needed to mitigate or eliminate it. They will leave this session with relevant neuroplasticity information and an understanding that a mentally happy, empowered person is the premise for a mentally healthy workplace for all.
"I appreciate MJ sharing her real life experience to help understand how to maintain our own mental health at work. The visual with the chairs was tangible and helped capture the message of the lecture."
CECCE, OTTAWA-2020
Participant
"Special mention for the mental health presentation! It was great and very interesting. We should have more presentations like this."
INFRASTRUCTURE CANADA/ GOVT OF CANADA - 2020
Participant
"I've heard many lectures on mental health and always left feeling like I didn't know what to do in practical terms. For once, I have tips and tools I can use. Thank you MJ!"
PSPC LET'S TALK MENTAL HEALTH/GOVERNMENT OF CANADA - 2020
Participant
"This conference made me realize the importance of listening to our emotions to avoid falling and having to be away from work for an extended period of time."
CECCE, OTTAWA - 2020
Participant
Leadership Strategist and Executive Coach,
Occupational Health Specialist, Speaker and Author